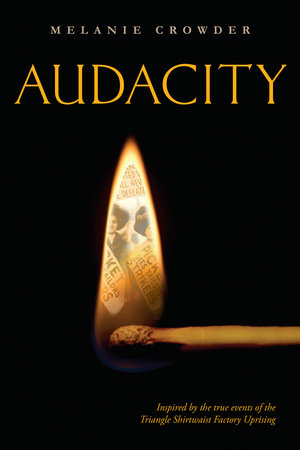 Watch the video here or read the transcript below:
Her brothers study Jewish texts, but she's not supposed to learn to read. She's not supposed to learn Russian, and once her family flees to New York City, she's not supposed to learn English. And Clara is not supposed to talk back – not to her father, not to her bosses in the sweatshops where she has to work. Audacity is a gorgeous novel in verse [show pages], and it tells the story of the daring life that Clara lives. And I would almost find her courage hard to believe, but this story is true. And if you look in the back of the book [show p. 369], you can read about the real Clara Lemlich and an interview with her family members as well.
Book details: Crowder, M. (2015). Audacity. New York, NY: Penguin. ISBN 9780399168994; hardcover; $17.99.
Annotation: Clara Lemlich, a young Jewish immigrant woman helps organize labor reform in New York City garment sweatshops.
Awards:
National Jewish Book Award Finalist
Bulletin Blue Ribbon Book
YALSA Best Fiction for Young Adults, Top 10 pick
Colorado Book Award Finalist
Nerdy Book Award
Amelia Bloomer List
Mighty Girl Book
Best Books of the Year, Bank Street College
Best Books of the Year, New York Public Library
Best Jewish Children's Books of 2015, Tablet Magazine
Best Children's Books for April, The Washington Post
Editor's Choice, Bookbrowse.com
Top Pick, BookPage.com
(Source)