Watch my book talk video or read the transcript below:
When their cranky grandma Mare decides to take Octavia and Tali on a summer road trip, she won't say exactly where they are headed. Tali and Mare clash wills over smoking, music, and driving speeds, and Octavia worries it is going to be a long, miserable trip. But then Mare starts telling the girls about her life – how she escaped from a dead-end future in Alabama to join the Women's Army Corps in World War II. Based on the real history of African-American women who served in the army, this story brings to life marching, wearing gas masks, peeling potatoes, sorting mail, dealing with segregation, falling in love, or not, and writing letters home. As Octavia and Tali argue their way through diners and hotels, they can't help but see their grandma in a new light as they learn what really happened in Mare's War.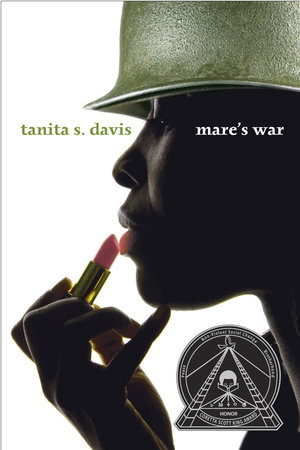 I love the paperback cover art, too! Image credit here.
Book details: Davis, T. S.(2009). Mare's War. New York, NY: Random House. ISBN 9780375957147; Hardcover; $16.99.
Annotation: Two girls go on a road trip with their grandmother and hear her stories of joining the military as a black woman in WWII.
Award: Coretta Scott King Book Award, 2010. (Source)