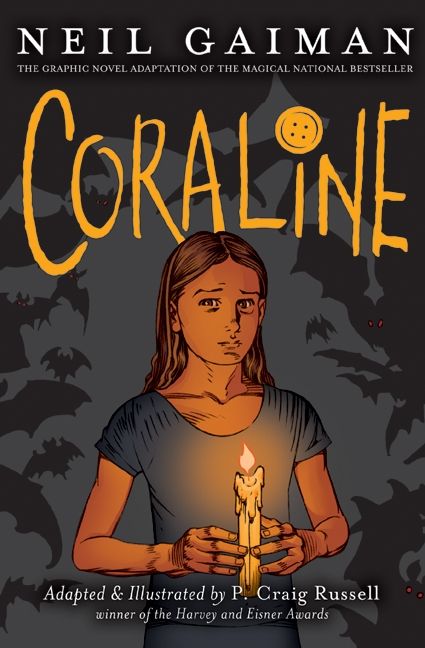 Watch my booktalk here, or read the transcript below:
"Coraline [show cover] is a spooky, surreal story which has been turned into a graphic novel. [Flip through to show p. 1]. "Coraline discovered the door a little after they moved into the house." That's the first sentence of the story. It starts with Coraline exploring the new house, being skeptical of the weird upstairs neighbor, having tea with the eccentric downstairs neighbors, and never having much luck getting her parents' attention. But after the strange dreams about rats start, and after there is nothing new left to explore, that Coraline finally goes through the door – and finds her sinister other mother, who wants her to stay and never, ever leave. This is the story of her exploration of a disturbing parallel world as she tries to find her way out."
Read an interview with P. Craig Russell about doing the adaptation and illustration to turn this story into a graphic novel.
Book details: Gaiman, N. & Russell, P. C. (illus.) (2008). Coraline. New York, NY: HarperCollins. ISBN 9780060825447; hardcover; $18.99.
Annotation: Coraline goes through a door in her new home and finds a disturbing world waiting for her.
Awards:
ALA Booklist Editors' Choice

Cooperative Children's Book Center Choice

School Library Journal Best Book

(Source)